WVLN/ULN Virtual Event
Benefits From Standardized Work
June 18, 2021, 11AM - 12:30PM
WVLN Virtual Event
Go BIG, Think small
Unlocking the hidden power of front-line ideas
June 25, 2021, 11AM - 12:30PM
Join Uplands Lean Network and Wabash Valley Lean Network as we look at standardized work with a presentation and breakout sessions. Don't miss this event as we learn, share and discuss one the foundational steps in process improvement.
Tim Martin will be sharing his knowledge and experience with standardized work. Tim is currently Transformation Coach at Franciscan Alliance.
Tim is a practitioner with 30+ years of experience in global and domestic manufacturing, healthcare, and business processes. Co-author of The Standardized Work Field Guide, and New Horizons in Standardized Work: Techniques for Manufacturing and Business Process Improvement. Extensive experience in Manufacturing Engineering including equipment and process design. Trained and coached teams in lean implementations at various locations around the globe for many years.
Standar
dized work is one of the keys to a lean system. As the godfather of lean, Taiichi Ohno, said in his oft-quoted statement, "Where there is no standard, there can be no kaizen".....where kaizen is defined as continuous improvement.
Where there is no standardized work, there is no process discipline, team member accountability, reliable data, continuous improvement or lean sustainability. The graph below illustrates the critical role of standardized work in the continuous improvement journey.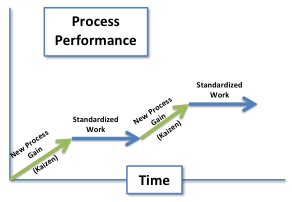 Standardized work is the playbook. It's what the team has decided is the best way — at this point in time — to get the job done and succeed on a daily basis. It supports all the organizational learning and training for the team members.
Standardized work needs to be a highly visible, practical way of organizing and managing human behavior and, most importantly, convincing everyone involved that standardized work is critical to the continuous improvement journey.
"Today's standardization…is the necessary foundation on which tomorrow's improvements will be based. If you think "standardization" as the best you know today, but which is to be improved tomorrow – you get somewhere. But if you think of standards as confining, then progress stops." - Henry Ford in 1926
"Standardized work is one of the most powerful but least used lean tools. By documenting the current best practice, standardized work forms the baseline for kaizen or continuous improvement. As the standard is improved, the new standard becomes the baseline for further improvements, and so on. Improving standardized work is a never-ending process." - Lean Enterprise Institute
WVLN Virtual Event
Go BIG, Think small
Unlocking the hidden power of front-line ideas
June 25, 2021, 11AM - 12:30PM
Big ideas capture the imagination. But if you are seeking performance

excellence, you need to focus on getting small front-line ideas – lots of small ideas.
Dean M. Schroeder joins us for this event. Dean is an award winning author, consultant and scholar. His work focuses on creating high-performing organizations and improving people's work lives through the application of better management.
Research has shown that eighty percent of a company's potential to

improve is locked in the creativity and ideas of the employee on the front lines of your organization. They are the ones working directly with the systems and processes that run your company, and they are in the best position to see a lot of problems and opportunities managers do not. The hidden impact of these small ideas is much greater than we realize.
This presentation shows the secrets to unlocking the power of small

ideas and implementing large numbers them quickly, easily, and on an ongoing basis. The result is a nimbler company capable of greater efficiency and faster innovation.
WVLN is a state-wide, member-driven group,
focused on applying Lean principles and continuous improvement methods to eliminate waste in business processes so member organizations can gain a competitive edge.
WVLN helps train, connect and encourage members
on their lean journeys through the exchange of knowledge and experience.
As fabulous as the presentations are in providing new ideas and training that we can actively use in our organization and personal lives, the profound power of the group is the opportunity to meet, engage, and network with highly motivated individuals and leaders driving improvement in their organizations.
And there will be time for networking, discussion and sharing before, during and after the meeting.
Whether you're new to process improvement and lean or an experienced practitioner, join us for our next meeting. Connect with peers and share experiences of implementing Lean process to a wide variety of fields, from manufacturing to healthcare to finance. Light refreshments will be provided, followed by guest speakers, a panel discussion, and time to network.
Non-members of WVLN can attend one of our meetings as guests (at no-cost), so feel free to invite a friend/peer who might have interest in attending.
Ready to join the group......